"The mediocre teacher tells. The good teacher explains. The superior teacher demonstrates. The great teacher inspires."  ~ William Arthur Ward
And we are lucky to have the most effective teachers in North Carolina for the last three years! The CCS Teacher of the Year program honors those who positively impact their students, schools and communities alike and are teacher leaders at the school and district levels. Through this program, we seek to encourage those that stand out among their peers and inspire others to follow their lead.
The Cabarrus County Education Foundation supports CCS to create stimulating and engaging classrooms that inspire students to build their future. And no one is more important to the success of the classroom than the teacher. According to the Rand Corporation, a leading research nonprofit, "When it comes to student performance on reading and math tests, a teacher is estimated to have two to three times the impact of any other school factor." Furthermore, the results of a 2012 Harvard study showed a good teacher can influence a student's chances to attend college, earn more money, and even avoid teen pregnancy.
Each school nominates a Teacher of the Year who then continues through a rigorous selection process to determine the CCS Teacher of the Year.
2017 - 2018 CCS Teacher of the Year, Paige Norris
Paige Norris, a kindergarten teacher at Rocky River Elementary School was named CCS Teacher of the Year! Norris began her teaching career with CCS in 2006 as a language facilitator in the oral deaf program. This experience, combined with her passion for children and education, inspired her to become an elementary school teacher.  In 2011, Norris fulfilled her dream of becoming a kindergarten teacher and began her teaching career at Pitts School Road Elementary School.  In 2014, Norris transferred to Rocky River Elementary School.
Norris always puts her students first. Her love and dedication to her students is remarkable.  Norris touches the lives of all the children she encounters and makes a lasting impact on each and every one.  In the words of a kindergartener, "Mrs. Norris is a great teacher because she is nice, helpful, kind and helps our brains get bigger."
Norris earned a bachelor's degree in psychology from the University of North Carolina at Chapel Hill, as well as a graduate certificate in elementary education from the University of North Carolina at Charlotte (UNCC).  In addition to her leadership in the classroom, Norris serves as a mentor for graduate students at UNCC and is a School Improvement Team representative for kindergarten, the grade level chair for kindergarten, and the professional development leader and co-leader in several areas at both the school and county levels.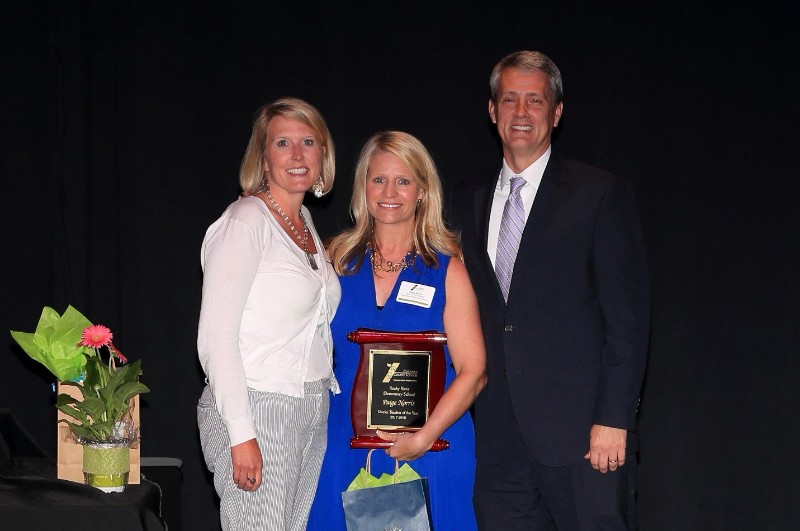 2017-2018 Teachers of the Year